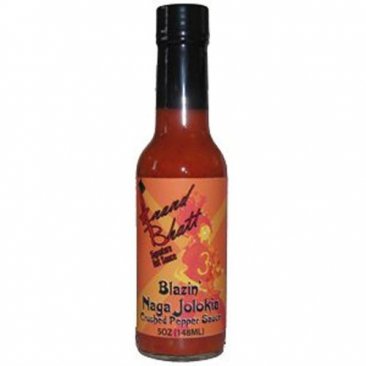 Haviing a good number of hot sauces in my rotation I had not had this one in a while so I just put some on a cracker and down it went. WOW...your taste buds are brought to life with some major heat. After the heat comes a pleasant taste, definitely tastses like ghost pepper but not quite as sharp. The initial pain from the heat quickly subsides into a nice warm feeling on the palate.

Even if the seeds were removed (and you can visually see they were not), there is no way this is the naga jolokia pepper. The naga jolokia has a very potent, sharp flavor- while this sauce has a light, sweet and well-rounded flavor. This sauce does taste very very good and gives a wonderful euphoria from the capsacin. This would be a great sauce to use on meats (wings, burgers, etc)... but refrain from putting it in your chili as it would only distort the flavor with its sweet, onion-like taste.

Naga Jolokia Pepper Sauce of Anand Bhatt is a persistent hot weather, rising to a great flavor that enhances rather than hides the taste of food. I should say that it is the most hot sauce I ever tasted? Personally, I find this a slight shift toward sweeter foods. This does not prevent me from continuing to use the original hot dogs, perogies and hot peppers, etc. The taste is absolutely natural.

This is an easy gift for chili heads, it has a selection of the best ghost pepper hot sauces. it has a different flavor with unique taste and it give me a good choice when I crave hot. Natural Taste

Although I do not have sufficient proficiency in English to describe how hot this sauce is. It's amazing. I put a few lines while in some BBQ food. I was stunned. All I could do was hold on to the table to tie and breathe through your mouth.

Whoa, this is super hot. It is my favorite form factor 5oz glass jar with wide mouth, it has a great professional quality label, and it tastes great. It has a strong natural ambience with a good flavor and not adulterated or masked by other flavors in the bottle. The ingredients are also very good. I become a fan of that. It is highly recommended.