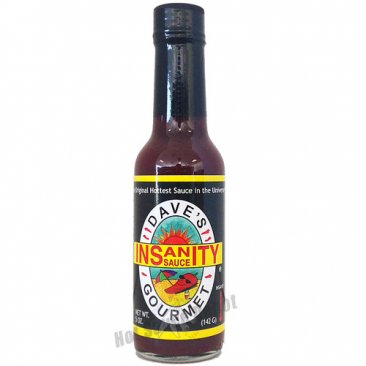 This stuff is the best! My husband is a Sherpa from the Himalayas and one problem he had when he came to the US was that we could not find sauce as hot as the chilis that he ate on everything in Nepal. Someone told us about Insanity Sauce and we tried it. That was in 1994 and we have continued to buy it ever since. We recently moved to AZ and couldn't find it in the stores so I sent away for it. Other sauces are OK, but Dave's Insanity Sauce is the hottest and he needs that on a daily basis. You would not believe the amount that he can put on food. He's tried sauce that is technically hotter, but it isn't satisfying at all. If you like hot food and haven't tried this - do it, but only take a small amount for the first taste. Good Luck!

Someone put this on my lips once when I fell asleep I woke up thinking I was going to have to be rushed to the emergency room.. Its HOT

We have a couple customers that we stock this sauce for.

The most POPULAR SUPER HOT (extract) sauce of all time! Some people still believe this is the hottest sauce in the world! It has reigned supreme for a couple decades!

I have a bottle of this at home. And I've had the bottle for 2 years or so, as it's never my go-to when I want to add some kick to a dish. It's got a decent heat level (not overpowering), but the flavor just isn't there. I noticed another review (Garret's) mentions it tastes like tomato paste with capsaicin added to the mix; and I'd agree. The flavor lingers in a strange way, thus it detracts from the food, rather than enhancing it. I know it's a popular one, but if this bottle ever runs out, it won't be getting replaced.

heat good flavor not the hottest not nearly as hot as the label says!!

I would rate this sauce a 2 if not for the heat. To me this stuff tastes like tomato paste with a bunch of capsaicin extract added to it. It is not savory, not sweet, just bland. The heat is overwhelming since there is no flavor to balance this out. I wil say I have found this sauce useful in that I can add a couple of drops to a good tasting sauce to add more heat. Other Dave's sauces are both hot and flavorful such as hurtin Habanero.

I tried this sauce about 13 years ago, and it was TOO hot for me then. Now that I am a die-hard chilihead, it is the perfect all-around sauce. There are hotter sauces out there, including Daves Ultimate and Total Insanity, but the Insanity has it all! Mega-heat, and flavor to spare! For my money, this is THE sauce to have on a deserted island! You can put this on anything and it will cook it itself. Can't go wrong here. Glad it is still around!