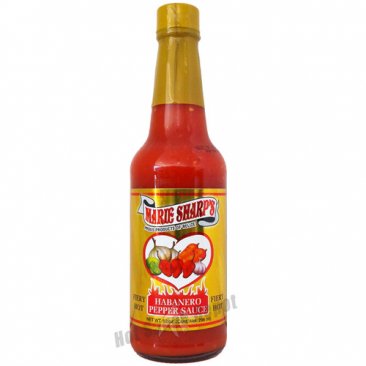 This hot sauce is amazing. The regular Habanero is awesome too, this is a touch hotter. Best flavor. We love it.

The best natural hot sauce brand no discussion. I have in the past 12 months have ordered over $300 of Marie Sharp's hot sauce.... The best love it!

I first tried this hot sauce in Belize 25 years ago. It is still the best hot sauce I have ever had!!

I order my hot sauce here every time!

Best flavor hot sauce on the market

We first tried this in Belize and can't get enough. Try it on anything, great in chili, soup, etc. If you like it hot, this is the sauce for you!

This hot sauce will knock your socks off!!! Learned about it when we were on San Pedro Island!!

Ditto to the first review. This is by far the tastiest hot sauce I have encountered. Although my wife says my taste buds are burned out, I find that Fiery Hot is tastefully warm. Typically, I don't care for the flowery taste of habanero sauces, but this one has a great flavor. I use it not only on Mexican dishes, but also on Italian cuisine, hamburgers, and select soups and stews. I picked up a 5 oz. sample bottle while in Belize, and it immediately became my go-to "spice it up" hot sauce. For anyone looking to break away from the ho-hum sauces, you won't be disappointed with this one.

I received a bottle of this from my step-brother, who knew I loved spicy food/sauces. He had actually traveled to Belize and found it there. Once I tried it, I was hooked! The Best sauce I have ever had. Decent heat with outstanding flavor. I panicked when my bottle ran low, and I couldn't find it in any store. This sauce is the reason I discovered my love of habaneros, and the reason I sought out this website. I look forward to trying some of the other sauces I just ordered, but this will always be my first love.