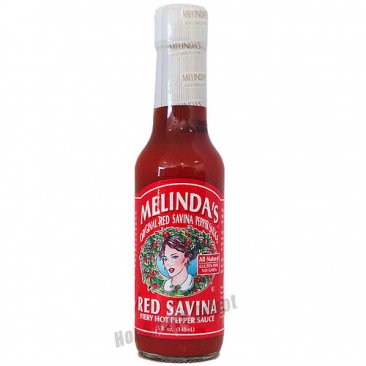 The best of the Melinda's line! Has a wonderful Red Savina taste and a good burn that lasts a few minutes,could really feel it on my lips a few minutes after I had some. Good on beef,chicken and pork.

This sauce tastes really good. It is fresh, has the right amount of heat and goes well with chicken, beef as well as tacos and burritos. It does not taste super hot at first but the heat creeps up on you. This is not what I would call an extremely hot sauce but it packs a kick. One word of advice is to pop the little pour stopper thing off of the top of the bottle so you can get a decent amount without having to shake the heck out of the bottle.

TRULY GREAT FLAVOR WITH JUST THE RIGHT AMOUNT HEAT.THIS HAS GOT TO BE THE BEST TASTING HABANERO SAUCE I HAVE EVER TRIED.

Were I a better writer, I would give a shot at trying to describe how delicious this stuff is. I am not, so I won't. For an every day, hot sauce that is not too spicy (comparing to the Death Sauce lines and such), this one is hard to beat. Great addition for any habanero sauce lover no matter what level you are on.

This is one of my favorites! For pure red savina habanero flavor this is one of the best I have found. This should be an addition to any chili heads cabinet!

EXCELLENT ! Super Hot and and Deliscious,This used to be one of the hottest all natural sauces around until the "Ghost Pepper" Came around. if you havent tried it your missing out.Worth every penny.